Welcome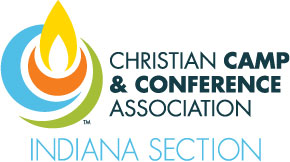 Welcome to CCCA's Indiana Section website. The Indiana Section is made up of CCCA member camps from the great state of Indiana. On this site, you'll find:
The Section Members tab provides a list of all CCCA member camps in the Indiana Section. Find out where member camps are located, then drill down to additional information about these great camps.
On the Section Leadership tab, you'll find information regarding the leadership of both the Great Lakes Region (of which we are a part) and local section leadership.
Visit the Section News and Events tab for details about upcoming events in our section, our region as well as training events and the annual conference hosted by CCCA.
The Sectional Conference tab provides details about our annual sectional where local Christian camps come together for two to three days of worship, fellowship, networking and fun. If you are not a part of CCCA, no problem. You can still attend. Check out the Sectional Conference tab for more information.
Finally, the Section Connection tab provides members with various resources, including links to various ways to communicate within — and outside of — our section.
On behalf of CCCA and the Indiana Section, thanks for visiting, and we hope to see you at one of our member camps and conferences soon!
Members
Leadership
Region Representative

Rick Miller
Great Lakes Region
(2022-2025)

Section President

Hannah Eberts —2022-2024
Southeastern Baptist Camp
3127 W. County Road 800 S
Greensburg, IN 47240

(812) 591-2515

President-Elect

Sharon Bechtel
Reach America
6812 Darmstadt Rd
Evansville, IN 47710

(812) 449-0030

Secretary

Treasurer

Deanna Beckner
Camp Alexander Mack
1113 Camp Mack Road
Milford, IN 46542

(219) 374-5941

NextGen Coordinator

Jordan Morris
Indian Creek Baptist Camp
1770 Avoca Eureka Road
Bedford, IN 47421

(812) 279-2161

VENDOR Coordinator

Brandon Dennis
Quaker Haven Camp
111 EMS D16C Ln
Syracuse, IN 46567

(574) 529-2435

Government Relations

Covered by current President

Past President

Rick Miller—2020-2022
Brethren Retreat at Shipshewana Lake
9095 W. 275 N.
Shipshewana, IN 46565

(260) 768-4519

MEDIA

Hannah Eberts
Southeastern Baptist Youth Camp
3127 W. Co. Rd. 800 S.
Greensburg, IN 47240

(812) 591-2515

Member at Large

Member at Large

Brandon Dennis
Quaker Haven
111 EMS D16C Ln
Syracuse, IN 46567

(574) 834-4193

Member at Large

Justin Keyes
Lake Placid Christian Conference Center
397 South, 200 E.
Hartford City, IN 47348

(765) 348-4342

Member at Large

Randall Bechtel
Reach America
6812 Darmstadt Rd
Evansville, IN 47710

(812) 449-0030

Member at Large

Gary Baker
Hanging Rock Christian Assembly
6988 South SR 263
West Lebanon, IN 47991

(765) 893-4581



News and Events
Great Lakes Region & National News

Are your kids heading to camp for the first time this summer? You're probably feeling a mix ...
Read more...
Posted: 06/22/2023

Most parents and church leaders understand that social media has a heavy grip on teens. Camp is a ...
Read more...
Posted: 02/10/2023

A week at camp is full of amazing memories, exciting opportunities, new friendships and encounters with God. Help you...
Read more...
Posted: 07/08/2022
Events
September 2023

S
M
T
W
T
F
S
1
2
3
4
5
6
7
8
9
10
11
12
13
14
15
16
17
18
19
20
21
22
23
24
25
26
27
28
29
30

List of Events for the Day of 9/28/2023
Sectional
OHIO/INDIANA SUPER SECTIONAL
March 12-14, 2024
New Location!
NextGen

NextGen coordination will take place at a section level, with assistance from the CCCA National Offices. Find out how you can get involved in NextGen, either as a mentor, or a mentee.
NextGen Coordinators: Access your NextGen Coordinators Toolbox. Please contact CCCA with any information or questions you have at: info@ccca.org.
Indiana NextGen Coordinator is Jordan Morris - Executive Director of Indian Creek Baptist Camp
If you are interested in being a mentor or mentee in the NextGen program, please contact Jordan at indiancreek@abc-indiana.org to get started.
Connection
YOU'VE GOT QUESTIONS. YOU'VE GOT ANSWERS.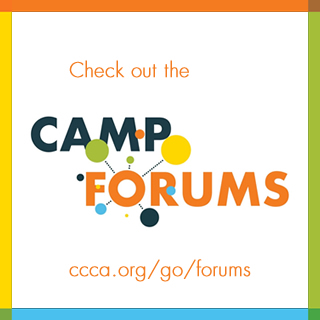 One of the greatest benefits of an association is the ability to ask colleagues what's been proven to work in their organization. For CCCA members, having access to insider information and best practices saves time and money. Check out CCCA's Camp Forums to find topics of interest to help you excel in your role at camp.
Section Manual
Download the latest Section Manual.
All Sections
View all sections.