Business Opportunities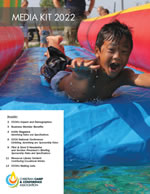 As a CCCA Business Member, you have multiple opportunities to keep your name in front of hundreds of member camps who are looking for the products or services you offer.

What if you're not yet a business member? You can still take advantage of many opportunities at our competitive non-member prices.

Take a minute to download and review our full media kit, or consider individual business opportunities below.
Business Membership
CCCA Business Member status is your best introduction to the unique camp community of CCCA. Exclusive benefits include being listed in our online business member directory and special rates on most marketing opportunities. Learn more about membership, or join today by completing CCCA's Business Membership Application.
InSite Magazine
Since 1958, camp/conference professionals have looked to our association magazine to keep them on the leading edge of the Christian outdoor adventure and hospitality industry. Start reaching key decision-making staff when you check out the InSite info sheet and rate card. You can place an ad insertion order online, and also view the 2023 editorial calendar to see what is coming up.
Flint & Steel E-Newsletter
Twice a month, thousands of members receive Flint & Steel on their mobile phones, tablets, laptops and desktop devices. The reach of Flint & Steel makes for a great marketing opportunity at a very reasonable rate. Check out a sample edition of Flint & Steel, then consider sponsoring an issue.
Section President's Briefing (SPB)
This monthly publication features CCCA national office news, timely leadership resources and a look into news covering broader Christian world news. CCCA section presidents send out SPB to their sections, often posting SPB links on their section social media pages and circulating the publication throughout their section. SPB goes out the first Monday after Flint & Steel. To place your company in front of decision makers, consider sponsoring an issue of SPB.
National Conference

Exhibit your services/products, advertise in our conference program, further your investment through sponsorship. Promote your organization at the annual CCCA National Conference. Exhibit your services/products, advertise in our conference program, further your investment through sponsorship, all the while earning a reputation for supporting our members in the important work they do. Earn respect and earn business.

Statistically speaking, from previous year attendees:
84% said exhibitors are a valuable to extremely valuable part of the conference experience, with over 44% of those saying exhibitors are very valuable to extremely valuable.
54% said they spent from 1-4 hours visiting the exhibit hall.
58% said they had 4-15 meaningful conversations with exhibitors.
25% said those conversations led to purchases at the conference
CCCA's National Conference is the largest gathering of its kind for Christian camp and conference professionals. Exhibiting at our conference provides an uncommon opportunity to discover our members' needs, allowing your company to tailor your products and services to meet - and exceed - those needs.
Mailing List Rental
Direct mail marketing is an important part of your overall marketing strategy. At CCCA, our lists are carefully maintained on a daily basis and offer a target market of key decision-makers like no other. Business members may order a current physical address mailing list by completing and returning CCCA's Mailing List Rental form. Please note: these are not email address lists.
Write for CCCA MEMBERS!
Are you a Subject Matter Expert (SME) in your field? Do you have business-related content that you'd love to share with camp/conference members? CCCA invites you to contribute to our Christian Camping Resource Library of over 3,000 articles. Your one to two page article must be helpful and educational, but not advertorial in nature. Check out the guidelines, then submit your content to business@ccca.org, CCCA's business relations manager.
Have a Question?
Call us at (888) 922-2287 or send us an email at business@ccca.org.