CAMP/CONFERENCE MEMBERS
Member Benefits
We want to make sure you have all the tools and resources to maximize your ministry, expand your reach and grow your impact. We exist as an association to do just that. As a CCCA camp/conference member, you will benefit from:
Publications
CCCA offers both print and online publications that will encourage and equip you to maximize your ministry.
In Print:
Online:
Tools & Services
Think of us as the extended staff for your camp or conference center. We believe in you and your ministry, so we develop tools and services to help you maximize your ministry.
Resources
Your CCCA membership gives you access to job tools, our searchable database, the exclusive My CCCA website, ALERTs, and other resources.
National Events and Training
CCCA is the largest nationwide organization in the U.S. offering targeted education and training to Christian camp and conference professionals. At CCCA events throughout the year, you'll find plenty of opportunities to gain valuable knowledge and skills. Learn about all the CCCA events at our Events page.
Get valuable training with our exclusive Excellence in Training events. Held monthly, these events connect you to top leaders in the hospitality, legal, camping industries and more. Visit our Events page for more details.
SECTION WEBSITES, SECTIONAL EVENTS AND TRAINING
Each of CCCA's 24 sections provide close-to-home events and training that your camp/conference staff will find extremely beneficial in terms of education, networking and much more. Visit the Sections page for information pertaining to specific sections or the Events page to browse all sectional conferences which typically take place in the January-April time frame.
Online Tools & Services
The powerful tool of social media serves a great purpose when you're trying to connect with people who understand you and the unique world in which you work. Connect with other CCCA members on our Facebook page or on Twitter to start a discussion, get questions answered, and get the latest news that relates to Christian camping. Also, take advantage of social media tools created by CCCA for member use.
NEW! Digital Membership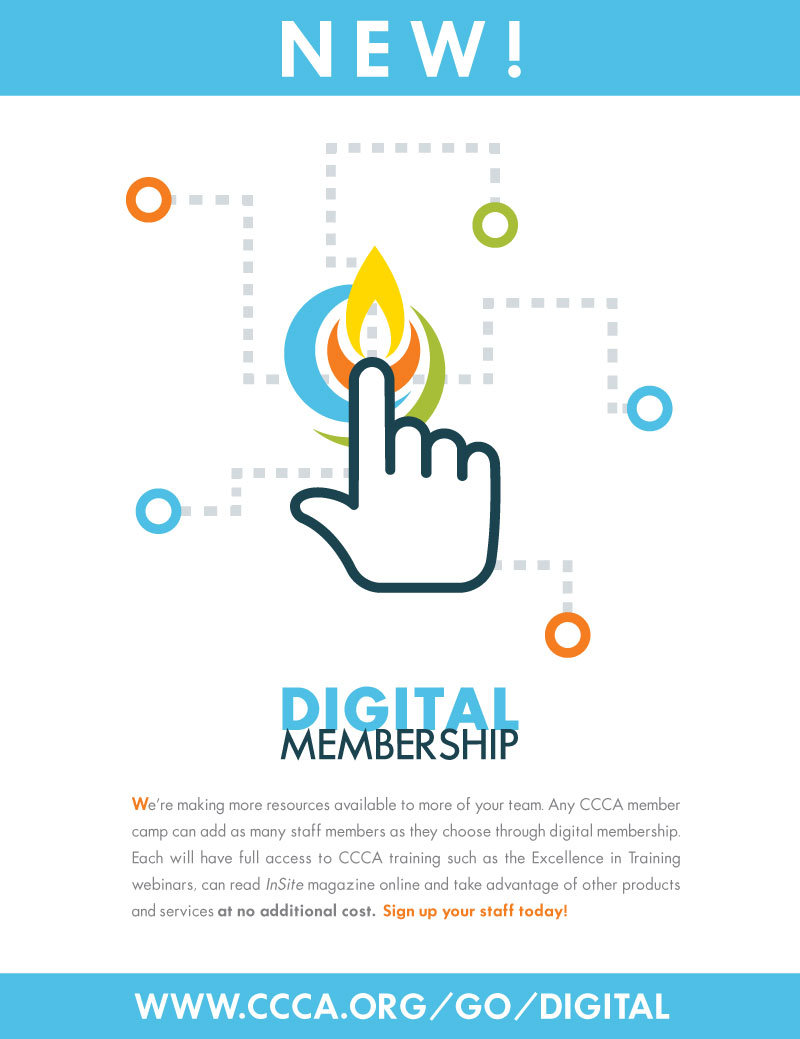 Members-Only Web Features
Our expansive library now holds over 1,800 articles from past InSite magazines. We've worked hard on the library to help you find exactly what you need, right when you need it.
Exclusive Programs
As we help CCCA members maximize their ministries, we know that helping them save money is important. We offer these members-only programs and benefits to help you improve your bottom line and better steward your funds.
While costs for most of the programs listed above are covered through membership dues, some programs and products are offered at additional, member-discounted fees. Member services are upgraded regularly and are subject to change.
Member Endorsements
"Thank you, CCCA, for serving Christian camps and for connecting me to brothers and sisters in Christ who understand my challenges and rewards like no one else."
Aaron Scarborough
Program Director
Sacramento Assembly
We see great value in the association. Our biggest draw are the get-togethers, either regionally or nationally, with people who understand what we do, what our challenges are, to rejuvenate, and to explore new ideas. We continue to appreciate the personal touch that comes from being a member of CCCA and meeting the staff and other camp professionals face-to-face.
Darla Roe
Executive Director
Camp Ida-Haven
View our full Member Benefits brochure
BUSINESS MEMBERS
Business Member Benefits
Christian Camp & Conference Association members are on a mission to serve people, develop relationships and change lives. Nearly 850 Christian camps, conference centers and retreat centers are members of CCCA. Each year over 5.5 million children, youth and adults participate in CCCA members' programs. About 90 percent of our member facilities are open year-round.
As a CCCA Business Member, you could build a significant relationship with CCCA members. Your Business Member status is your best introduction to this unique camp community as it provides you with access to exclusive benefits—including special rates on most marketing opportunities. You can learn more by calling CCCA at (888) 922-2287, ext. 121, or by emailing businessrelations@ccca.org.
Business Member Benefits
For only $619/year you will receive:
Online Benefits
New product or service announcements in "Member News" section of the members-only section of the CCCA website
Complimentary Publication Subscriptions
Two InSite magazine subscriptions ($96 value)
Two subscriptions to Flint & Steel, a member-only e-newsletter
Special Discounts
Save 10% on InSite magazine advertising placements
Members get discounts on mailing list rentals (save up to $130)
Secure early exhibit space selection and a discount on CCCA National Conference exhibit hall space (save $500)
CCCA Business Membership Logo
Include the CCCA Business Member logo in your advertising, publications and mailings. Camps look for the logo to know who supports their community.
Who are CCCA Members?
Christian Camp & Conference Association members are on a mission to serve people, develop relationships and change lives.
Nearly 850 Christian camps, conference centers and retreat centers are members of CCCA.
Each year over 5.5 million children, youth and adults participate in CCCA members' programs.
CCCA members identify themselves as:

resident camps (88%)
retreat centers (81%)
day camps (37%)
conference centers (35%)
wilderness/trip camps (24%)

The average CCCA member facility was founded 50 years ago with nonprofit ownership (95%) and operates year-round (88%).
These camps and conference centers offer a variety of activities and services to their guests, including:
Programs for families (45%)
Day camps (40%)
RV/tent sites (61%)
Adventure/wilderness recreation (28%)
Horseback riding/arena (26%)
Outdoor education (22%)
Swimming pools (52%)
Waterfront recreation (53%)
Nature centers (20%)
Paintball (19%)
Ropes/challenge courses (63%)
And more!
Promote Your Business with CCCA
The CCCA Marketing Media Kit includes everything you need to take advantage of the association's opportunities to promote your business. It features the InSite Rate Card, a mailing list rental form, and a business membership application. Download the full kit now or read about individual opportunities on our Business Opportunities page.
Write for CCCA MEMBERS!
Are you a Subject Matter Expert (SME) in your field? Do you have business-related content that you'd love to share with camp/conference members? CCCA invites you to contribute to our Christian Camping Resource Library of over 3,000 articles. Your one to two page article must be helpful and educational, but not advertorial in nature. Check out the guidelines, then submit your content to businessrelations@ccca.org.
Business Member Directory
View our Business Member Directory. Your company can be listed here as well if you become a CCCA Business Member, giving you access to the leaders in the camping movement. To join today, complete and return CCCA's Business Membership Application or apply online using the link below.