Welcome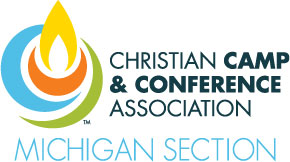 Welcome to CCCA's Michigan Section website. The Michigan Section is made up of CCCA member camps from the great state of Michigan. On this site, you'll find:
The Section Members tab provides a list of all CCCA member camps in the Michigan Section. Find out where member camps are located, then drill down to additional information about these great camps.
On the Section Leadership tab, you'll find information regarding the leadership of both the Great Lakes Region (of which we are a part) and local section leadership.
Visit the Section News and Events tab for details about upcoming events in our section, our region as well as training events and the annual conference hosted by CCCA.
The Sectional Conference tab provides details about our annual sectional where local Christian camps come together for two to three days of worship, fellowship, networking and fun. If you are not a part of CCCA, no problem. You can still attend. Check out the Sectional Conference tab for more information.
Finally, the Section Connection tab provides members with various resources, including links to various ways to communicate within — and outside of — our section.
On behalf of CCCA and the Michigan Section, thanks for visiting, and remember 4 out of 5 great lakes prefer Michigan!
Members
Leadership
Region Representative

Lonnie Thompson
Great Lakes Region
(2017-2021)

Section President

Wayne Faber—2018-2020
Director
Little Eden Camp

(231) 889-4294

President Elect

Steve Prudhomme—2018-2020
President
Grace Adventures

(231) 873-3662

Secretary

Joe Hughes—2018-2020
Program Director
Bair Lake Bible Camp

(269) 244-5193 ext. 203

Treasurer

Chad Saxton—2018-2020
Director of Experiential Srvcs & Camps
Eagle Village

(231) 797-5107

NextGen Coordinator

Chad Coppess
Program Administrator
Grace Adventures

(231) 873-3662 ext. 108

Marketing, Communications

Nanci Tissot

Bair Lake Bible Camp

(269) 615-4648

Member At Large

Jake Jacobs
Camp Henry

(616) 717-3503

Member at Large

Mike Deen
Ao-Wa-Kiya

(231) 861-2466

Member at Large

Matthew Cable
Youth and Program Manager Gull Lake Ministries

(269) 671-5155
News and Events
Great Lakes Region & National News

In an age where people are spending 90% of their time indoors, it's no secret ...
Read more...
Posted: 10/07/2019

Young people who report spending the most time on smartphones—five to seven hours a day—are twice as likely to ...
Read more...
Posted: 09/17/2019

Cities across the U.S. have made efforts to increase opportunities for students to have meaningful outdoor experiences. Through the mayor's offices, parks and recreation, public health and youth services departments, community leaders have...
Read more...
Posted: 08/09/2019
Events
November 2019

S
M
T
W
T
F
S
1
2
3
4
5
6
7
8
9
10
11
12
13
14
15
16
17
18
19
20
21
22
23
24
25
26
27
28
29
30

List of Events for
11/1/2019 to 11/1/2020
Sectional
Michigan Sectional - 2020
March 2-4 - Gull Lake Ministries
1800 Burlington Drive
Hickory Corners, MI 49060-9315
Join us for a dynamic time with other camp professionals! Over 40 seminars in 9 camping areas, engaging time of teaching, worship, fellowship with over 300 others and FUN!
We are excited to welcome Lloyd Shadrach as the General Session speaker. Lloyd worked with Family Life in Little Rock, AR for 15 years, earned his Master of Divinity (M.Div.) from Dallas Theological Seminary and then moved to Franklin Tn in 1996 to co-plant Fellowship Bible Church where he currently serves as one of the teaching pastors.
Returning to lead worship, The Bindsongs!
New for 2020... Sunday Seminar with Michelle Cummings.
Look for more info and registration to be open in fall of 2019.
NextGen

For 2016, NextGen coordination will take place at a section level, with assistance from the CCCA National Offices. Find out how you can get involved in NextGen, either as a mentor, or a mentee.
NextGen Coordinators: Access your NextGen Coordinators Toolbox. Please contact CCCA with any information or questions you have at: info@ccca.org.
Connection
Sound the ALERT

Have a question for other camps in your section or an emergency in which you need support? Subscribing to CCCA Email ALERTs (Advanced Leadership Email Relay Tool) offers you connection to other CCCA members in your section. This tool may be used by executive directors and section leaders, and provides the option to send messages to all other executives and/or subscribers across the section, state or country.
Not signed up to receive ALERTs? Log in to My CCCA and activate your ALERTs on your personal profile page.
Section Manual
Download the latest Section Manual.
All Sections
View all sections.