December 11, 2018
Ministering With and to Youth of Color
---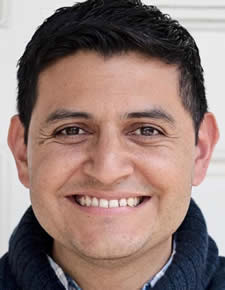 Many youth of color face a lived reality that is characterized by the intersection of multiple cultures, languages and values: a reality also described as "living in the hyphen" (e.g. Mexican-American, Korean-American, Thai-American or Cuban-American, etc.). This webinar will bring to light the dynamic identity formation that youth of color experience as well as the gift that they are to their communities, churches and to the ministries involved in CCCA. Marcos' ministerial experience as a Latino pastor facilitates a window into the challenges and opportunities that sacred spaces such as Christian camps can have in the ministering with and to youth of color.
About Marcos Canales

Marcos Canales, originally from Costa Rica, grew up in Peru, Ecuador and Paraguay as the son of Peruvian Nazarene missionaries. Marcos received his B.A. in philosophy and theology from Point Loma Nazarene University and his MDiv from Fuller Theological Seminary. Marcos has been church planting amongst the Latina community of the greater Los Angeles area for the last 14 years. During this time, he has worked with nonprofit community organizations in the areas of urban youth development, mentorship and immigration advocacy. Currently, Marcos is the pastor of La Fuente Ministries, a bilingual, intercultural and intergenerational ministry of Pasadena First Church of the Nazarene. He is also part of the staff of the Center for the Study of the Hispanic Church and Community at Fuller Seminary as a researcher and as an assistant to the executive director. His other passion includes spending time with his loving wife, Andrea and his son, Elias Kaleo.

---
Brand New from CCCA!
---
Previous Excellence in Training Events
Creating Balance at Work and Home

Robyn Dykstra - Author and speaker
Original Broadcast:
Jan. 16, 2018
Civility in an Uncivilized World

Glenn Packiam - Associate Senior Pastor, New Life Church, Colorado Springs
Original Broadcast:
Feb. 21, 2018
Staff Training, Supervision, Care and Culture

Rob Ribbe, Ph.D. & Rachael Cyrus -
Wheaton College Graduate School
Original Broadcast:
Mar. 20, 2018
Creating a Camp Experience for Kids in Foster Care

Jeff Juhala - Royal Family KIDS, Inc.
Original Broadcast:
April 17, 2018
Suicide Prevention Training

Craig Lomax - Rock-N-Water
Original Broadcast:
April 24, 2018
Healthy Teams

Dave Marks
Original Broadcast:
May 22, 2018
Camp Creates a Place to Hear From God /
The Joy of Giving / Healthy Feedback at Camp

Brandon Heath,
Kim Lester,
Brian Brandt
Original Broadcast:
Early June, 2018
Building Trust Within Your Ministry /
Women in Leadership / The Heartbeat of Jesus

David Horsager,
Trillia Newbell,
Peter Reid
Original Broadcast:
Late June, 2018
Journeying with Young Leaders /
Enhance Your Photography and Videography / Camp Tele
medicine

Dr. Kara Powell,
Donnie Rosie,
Doug McClain with Lauren Ingram
Original Broadcast:
Early July, 2018
Thoughtful Planning to Reality /
Social Media Like a Pro / Unity Through Worship

Garret Larsen,
Jenna Frank,
Jonathan Allen
Original Broadcast:
Late July, 2018
Youth Ministry Today /
Planned Giving / Pornography in Culture

Crystal Kirgiss,
Greg Ring,
Sharon Hersh
Original Broadcast:
Early August, 2018
Challenges in Ministry /
Legal Issues / Suicide Prevention

Eugene Cho,
Jon Ruybalid,
Craig Lomax
Original Broadcast:
Late August, 2018
What It Takes to Be a Royal Family KIDS Camp Facility

Jeff Juhala - Royal Family KIDS
Original Broadcast:
September 18, 2018
Government Advocacy Program

Jamie Lord
Original Broadcast:
October 23, 2018
Using Your No-phone Policy
to Teach Campers About Digital Wellness

Michael Mercier - Screen Education
Original Broadcast:
November 11, 2018