---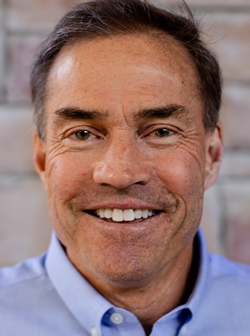 Beating the Blitz – Be a Team of Relationship Investors
In football, a blitz is an all-out attack. Something tough happens, but that's not the end of the story. In life, we will likely run into financial, relational, spiritual or physical "blitzes." In this webinar, Jeff Kemp will share lessons he's learned through all kinds of life blitzes, including how to care for staff, build trust and manage conflict within teams. Join Jeff to help your team see how blitzes can be opportunities and how trials can transform into triumphs.
Nov. 12, 2019
Noon Eastern
11 a.m. Central
10 a.m. Mountain
9 a.m. Pacific
About Jeff Kemp
Jeff Kemp is a champion for families, teamwork and God's love. He's a former NFL quarterback who played 11 seasons for the Rams, 49ers, Seahawks and Eagles. Kemp led the Rams to the playoffs in 1984 and helped lead the 49ers to the playoffs in 1986, throwing 11 touchdowns in 6 weeks, replacing an injured Joe Montana. He's invested almost three decades leading organizations to strengthen marriages, manhood and fatherhood. He founded Stronger Families in the Northwest and served five years as VP/Catalyst and presently as a Weekend to Remember speaker at FamilyLife. Jeff is a fatherhood ambassador for the Fatherhood CoMission and serves men, CEOs and organizations through JeffKempTeam. Jeff brings humor, honesty and actionable vision to men, couples and organizations to build great teams. He's the author of Facing the Blitz – Three Strategies for Turning Trials into Triumphs. Jeff and his wife, Stacy, have four married sons, Kyle, Kory, Kolby and Keegan. They love to ski, play tennis and mentor young couples.

---
Brand New from CCCA!
---
Previous Excellence in Training Events
How To Build a Successful Recruiting Strategy

Mark Griffin - Founder, Chief Consultant, In HIS Name HR
Original Broadcast:
Jan. 10, 2019
Challenges Facing Youth and Youth Worker Strategies to Help

J. Warner Wallace - ColdCaseChristianity.com
Original Broadcast:
Feb. 20, 2019
The Power of Camp Research: Data You Can Use Today

Dr. Jake Sorenson - Sacred Playgrounds
Original Broadcast:
March 18, 2019
Critical Camp Documents

Jon Ruybalid - CCCA General Counsel
Original Broadcast:
Mar. 19, 2019
Think Up: ... Think Differently and Lead Better

Jenni Catron - The 4Sight Group
Original Broadcast:
April 9, 2019
Generational Diversity in the Workplace

Dr. Tim Elmore
Original Broadcast:
May 16, 2019
Technology, Identity and Connection /
Working with Your Camp Board / Quality Service Training

Walt Mueller,
Ed McDowell,
Evan Liewer
Original Broadcast:
May, 2019
Camp Security / Foodservice Management / Spiritiual Transformation / Shepherding

John Ojeisekhoba,
Matt Huffman,
Dr. Leanne Hadley
Rich Van Pelt
Original Broadcast:
Early June, 2019
Providing Quality Hospitality /
Evaluating Your Brand / Developing a Risk Management Plan

Horst Schulze,
Justin Wise,
Paul Sherrill
Original Broadcast:
Late June, 2019
Maximizing Online Fundraising /
Making Good Food at Camp / The Value of Team Building

Mike Rusch,
Elizabeth Bergman,
Dr. Jim Cain
Original Broadcast:
Early July, 2019
Integrating Your Brand /
Giving Youth a Voice / Living an Intentional Life

Brandon Robinson,
Danielle Strickland,
Bob Goff
Original Broadcast:
Late July, 2019
The Powerful Tool of Listening /
Keeping Your Camp on Mission / The Power of Camp Study

Mike Foster,
Nate Parks,
Dr. Jake Sorenson
Original Broadcast:
Early August, 2019
Experiencing God at Camp /
Identifying Gaps in Brand Marketing / Keys to a Long and Effective Ministry

Megan Fate Marshman,
Charles Lee,
Dr. Marv Penner
Original Broadcast:
Late August, 2019
Funding Your Mission Through Quality Donor Relationships

Mike Rousch - Chief Executive Officer at Pure Charity
Original Broadcast:
Sep. 10, 2019
The Summer Camp Marketing Jam: From Nuts and Bolts to Creative Storytelling

Travis Ramos - Marketing Director, CampMinder
Original Broadcast:
October 22, 2019
Beating the Blitz — Be A Team of Relationship Investors

Jeff Kemp
Original Broadcast:
November 12, 2019