Welcome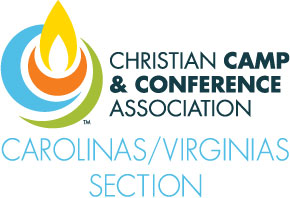 Welcome to CCCA's Carolinas/Virginias Section website. The Carolinas/Virginias Section is made up of CCCA member camps from the great states of North Carolina, South Carolina, Virginia and West Virginia. On this site, you'll find:
The Section Members tab provides a list of all CCCA member camps in the Carolinas/Virginias Section. Find out where member camps are located, then drill down to additional information about these great camps.
On the Section Leadership tab, you'll find information regarding the leadership of both the Southeast Region (of which we are a part) and local section leadership.
Visit the Section News and Events tab for details about upcoming events in our section, our region as well as training events and the annual conference hosted by CCCA.
The Sectional Conference tab provides details about our annual sectional where local Christian camps come together for two to three days of worship, fellowship, networking and fun. If you are not a part of CCCA, no problem. You can still attend. Check out the Sectional Conference tab for more information.
Finally, the Section Connection tab provides members with various resources, including links to various ways to communicate within — and outside of — our section.
On behalf of CCCA and the Carolinas/Virginias Section, thanks for visiting, and we hope to see you at one of our member camps and conferences soon!
Members
Leadership
Region Representative

Art Snead
Southeast Region
(2023)

Section President

Steve Gourley—2022-2024
Camp Piankatank
PO Box 435
Hartfield, VA 23071

(804) 776-9552

President-elect




Secretary

Ginger Allen
Camp McCall
108 Ambassador Rd.
Sunset, SC 29685

(864) 878-6025

Treasurer

Shannon Clayton
Look Up Lodge
100 Look Up Lodge Rd.
Travelers Rest, SC 29690

(864) 836-6392

NextGen Coordinator

Communications

Open

Government Relations

Covered by current president

Past-President

Calvin Lindsey
Caraway Conference Ctr. & Camp
PO Box 36
Asheboro, NC 27204

(336) 629-2374

Vendor Coordinator

Matt Hunt
Camp Piankatank
PO Box 435
Hartfield, VA 23071

(804) 776-9552

Marketing Coordinator

Member At Large (SC)

Paul Atkinson
Camp Longridge
10 Longridge Road
Ridgeway, SC 29130

(803) 337-2082

Member At Large (WV)

Ruth Knicely
Appalachian Bible College/Alpine Ministries
161 College Drive
Mount Hope, WV 25880

(304) 877-6428

Member At Large (VA)

David Breeden
Blue Ridge Christian Camp
1751 Sterling Dr.
Blacksburg, VA 24060

(540) 639-9147

Member At Large (NC East)

Kevin Adams
Camp Willow Run/Camp Willow Springs
190 Mangum Lane
Littleton, NC 27850

(252) 586-4665



News and Events
Southeast Region & National News
ACCT Level 1 Challenge Course Training and Certification
Posted: 03/20/2015

Are your kids heading to camp for the first time this summer? You're probably feeling a mix ...
Read more...
Posted: 06/22/2023

Most parents and church leaders understand that social media has a heavy grip on teens. Camp is a ...
Read more...
Posted: 02/10/2023

A week at camp is full of amazing memories, exciting opportunities, new friendships and encounters with God. Help you...
Read more...
Posted: 07/08/2022
Events
March 2023

S
M
T
W
T
F
S
1
2
3
4
5
6
7
8
9
10
11
12
13
14
15
16
17
18
19
20
21
22
23
24
25
26
27
28
29
30
31

List of Events for
3/01/2023 to 3/01/2024
Sectional
COVID-19 Notification
As they become available, dates and location for the 2023 Sectional Event will be posted below. The section cabinet and CCCA leadership will regularly review plans in light of COVID-19. This page will be updated as plans develop closer to the event. Please check back or reach out to the section president with any questions.
SOUTHEAST REGION SUPER-SECTIONAL
March 6-8, 2023
Bonclarken Conference Center
Hendersonville, NC
Southeast Super Sectional Registration is open!
The new year is here, staff recruiting is in full swing, projects are ongoing, and we each are looking further into 2023 with anticipation. However, be aware of the here and now. Join us as we take time to slow down and see God's hand at work during the 2023 Southeast Super Sectional at Bonclarken Conference Center in Hendersonville, NC, March 6th-8th, 2023. Gather with other believers to see what the Lord is doing around Christian Camping, around your community, your staff, and your heart. We look forward to this gathering each year as we have the joy of seeing friends, family, and new faces that are in Christian Camping. This year we welcome those that are outside of our respective sections. Don't miss out on this time with camps and their staff from Tennessee, Kentucky, West Virginia, Virginia, North Carolina, South Carolina, Georgia, and Florida!
Sectional Rates
We are excited to be back on the beautiful property of Bonclarken Conference Center and the incredible hospitality they offer. The rates below are for lodging options at Bonclarken only. These rates include lodging and meals during the conference as well as the conference program fee. Meals are not included in the commuter rate. If you have any questions regarding registration, please contact Lynn Rogers
The Lodge, Founders Hall, Founders South
Single - $305
Double+ - $255
Faith Apartments
Double - $265
Triple+ - $240
Dorms, Cottage - Linen not provided
$210
Plus meals
$105
Breakfast: $9 / Lunch: $10.25 / Dinner: $11.75
If you are interested in attending the conference, but need some scholarship assistance, please contact Shannon Clayton before you register for conference.
Conference Head Start Seminar
We are excited to offer a head start seminar that will take place on Monday, March 6th, starting at 2pm. The Head Start presenter will be John Skaggs, who is the Chair for the Camping Ministry Major at Appalachian Bible College in Beckley, West Virginia. John has been involved in Christian Camping for 24 years, including 15 of those years spent teaching at the college while helping the camping and adventure program at Alpine Ministries operated out of the college.
The Head Start will focus on designing effective program activities and using the 6 Elements of Programs to design unique activities. Every program has 6 elements that can be identified and changed to keep programming fresh and effective. This seminar will teach these through an activity-based, experiential learning environment so people can design creative programming that meets participant needs.
If you would like to attend the head start seminar, please register here. There is no cost to attend.
Be on the look out for the conference schedule, information on the guest speaker, worship leaders, seminar presenters, and a full list of the seminars being offered.
NextGen

NextGen coordination will take place at a section level, with assistance from the CCCA National Offices. Find out how you can get involved in NextGen, either as a mentor, or a mentee.
NextGen Coordinators: Access your NextGen Coordinators Toolbox. Please contact CCCA with any information or questions you have at: info@ccca.org.
Connection
YOU'VE GOT QUESTIONS. YOU'VE GOT ANSWERS.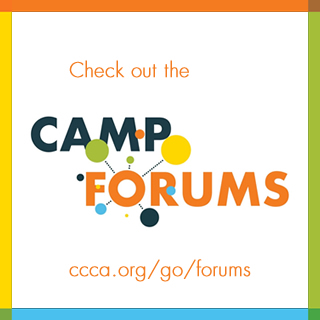 One of the greatest benefits of an association is the ability to ask colleagues what's been proven to work in their organization. For CCCA members, having access to insider information and best practices saves time and money. Check out CCCA's Camp Forums to find topics of interest to help you excel in your role at camp.
Section Manual
Download the latest Section Manual.
All Sections
View all sections.