Welcome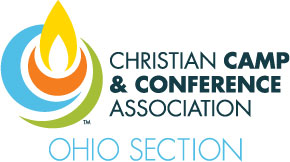 Welcome to CCCA's Ohio Section website.
The Ohio Section is made up of CCCA member camps from the great state of Ohio. On this site, you'll find:
The Section Members tab provides a list of all CCCA member camps in the Ohio Section. Find out where member camps are located, then drill down to additional information about these great camps.
On the Section Leadership tab, you'll find information regarding the leadership of both the Great Lakes Region (of which we are a part) and local section leadership.
Visit the Section News and Events tab for details about upcoming events in our section, our region as well as training events and the annual conference hosted by CCCA.
The Sectional Conference tab provides details about our annual sectional where local Christian camps come together for two to three days of worship, fellowship, networking, and fun. If you are not a part of CCCA, no problem. You can still attend. Check out the Sectional Conference tab for more information.
Finally, the Section Connection tab provides members with various resources, including links to various ways to communicate within — and outside of — our section.
On behalf of CCCA and the Ohio Section, thanks for visiting, and we hope to see you at one of our member camps and conferences soon!
Members
Leadership
Region Representative

Rick Miller
Great Lakes Region
(2022-2025)

Section President

Dan Bajc 2020-2024
Camp Aldersgate
3276 Dyewood Rd SW
Carrollton, OH 44615

(330) 627-4369

President Elect






Secretary

Kelcey Bajc 2014-2022
Camp Aldersgate
3276 Dyewood Rd SW
Carrollton, OH 44615

(330) 627-4369

Treasurer

Dan Bajc 2012-2022
Camp Aldersgate
3276 Dyewood Rd SW
Carrollton, OH 44615

(330) 627-4369

NextGen Coordinator

Josh Witry
Skyview Ranch
7241 Township Rd. 319
Millersburg, OH 44654-8708

(330) 674-7511

Communications Coordinator

Shyanne Zitkovic
Wanake Camp & Retreat Ctr.
9463 Manchester Ave SW
Beach City, OH 44608

(330) 756-2333

Government Relations

Sue Nigh
Heartland Conference & Retreat Ctr
3201 County 225
Marengo, OH 43334

(740) 747-0220

Past President

Julie Lautt 2018-2020
Wanake Camp & Retreat Ctr.
9463 Manchester Ave SW
Beach City, OH 44608

(330) 756-2333

MEMBER AT LARGE

Dave Sellers
Camp Patmos

(419) 746-2214

Member at Large

Lucy Richards
Camp Buckeye

(330) 756-2380






MEMBER AT LARGE

Scott Bruns
Scioto Hills Christian Camp & Retreat Center

(740) 778-3279

MEMBER AT LARGE

Judie Jenkins
Camp Chautauqua

(937) 746-3811






VENDOR COORDINATOR

HOST SITE COORDINATOR

Kathy Trainer
Beaulah Beach

(440) 967-4861 Ext. 2280
News and Events
Great Lakes Region & National News

A week at camp is full of time with friends, games, good food, and unforgettable memories, making it your child's...
Read more...
Posted: 06/08/2022

The Child Mind Institute reported that the average American child spends over seven hours a day...
Read more...
Posted: 05/06/2022

Do you ever feel like you're hurrying your way through life instead of taking time to enjoy each...
Read more...
Posted: 03/14/2022
Events
July 2022

S
M
T
W
T
F
S
1
2
3
4
5
6
7
8
9
10
11
12
13
14
15
16
17
18
19
20
21
22
23
24
25
26
27
28
29
30
31

List of Events for
7/1/2022 to 7/1/2023
Sectional
COVID-19 Notification
As they become available, dates and location for the 2022 Sectional Event will be posted below. The section cabinet and CCCA leadership will regularly review plans in light of COVID-19. This page will be updated as plans develop closer to the event. Please check back or reach out to the section president with any questions.
OHIO/INDIANA SUPER SECTIONAL

March 14-16, 2022
Heartland Conference Center and Retreat Center
3201 Country Road 225
Marengo, Ohio 43334
Registration Deadline for T shirt sizing choice- February 12th. After that, you get what you get. =)
Contact Dan Bajc for more information.
KEYNOTE SPEAKER: Tom Beaumont

About Tom:
Tom Beaumont is a strong leader with over 40 years of experience in Christian Camping Leadership. He holds a master's degree in theology from Western Seminary, Portland OR. Tom recently retired as executive director at The Firs, located in Bellingham, WA. Where he served for 36 years. Additional roles at The Firs he held included Day Camp Director, Adult and Family Program Director and Business Manager. Prior to The Firs Tom was the executive director of Trout Creek Bible Camp in Oregon. Tom's background in Christian Camping has given him knowledge and experience in the areas of big picture thinking, communication planning, employee relations and program creation. He is a well-respected spiritual leader among his peers.

Tom's philosophy of ministry is: To motivate and enable people to understand God's will through God's Word and to, in faith, do it. Tom's philosophy of camping ministry is: Camp is not a place to be told what to do or even how to live. It is a place to listen to what God has to say. It's a place to hear and experience the message of Jesus through the clear evidence of His creation and the genuine presence of His love through His people (spoken and unspoken). Tom has served three terms on the board of CCCA and held the position of Vice Chair and Chairman of the Board Development Committee. Currently he serves on a task force of CCCA whose task is to help strengthen the sections of the association. He has spent time with the Thriving Boards team and believes in the health and wellness of board development.
WORSHIP: The Birdsongs

The Birdsongs are a Christian rock band originally from Seattle, WA, now living near Knoxville, TN, composed of three brothers and a sister. They began playing music together with their family at a very young age and started touring North America with a simple message of hope, and a love for Christ and people. Two decades later, The Birdsongs are more passionate than ever about the music God has given them to share. Their music has been played consistently on Christian Rock and Internet Radio with their single "This Isn't Love (Radio Edit)" peaking at #9 on Billboard's Christian Rock Chart and their single "Will You Save Me?" reaching over 1.5 Million listens from all over the world on Spotify.

The Birdsongs are all about the gospel and see music as a powerful tool to express the hope and love they've found in Christ. "l love hearing stories of how God has used our music in people's lives," says singer/songwriter Benjamin Birdsong. "We try to write as honestly as possible to show people they're not alone...that we all struggle, but Christ is the answer to all of life's problems." Their new album "The Journey, Act II: The War" focuses on finding hope amidst depression, anxiety, temptations, and trials and using Christ's promises to keep fighting. The album's first single "Reality" hit the airwaves August 30th, 2019 with the album releasing shortly afterward on September 6th.
PRICE INFORMATION
Program Event Fees

CCCA Members: $60/person
Non-Members: $75/person
Students/Interns: $32.50/person
Board Members: $32/50/person

Overnight Lodging and Meal Costs:

Dorm Style: $25/night
Private Rooms (Limited Availability): $35/night
Linens (Optional): $12/person
Day only registrations welcome- details can be found in online registration
EVENT COVID -19 POLICY
As we navigate the ever changing Covid-19 Pandemic we want to be wise and mindful as we plan a large group gathering. With that said leadership is asking that you help us keep everyone safe as we gather together by following these steps below.
- We ask that you do not attend the conference if you are positive for covid-19 or have had a positive exposure in the last 10 days.
- We ask that if you have any symptoms consistent with Covid-19 or other sickness, that you do not attend the conference.
Hand sanitizer will be available in our meeting spaces for you as well as spacing between table and chairs to allow for social distancing! We also encourage masks but we are not requiring them at this time. Each attendee will be given a color coded name tag letting you know how comfortable they are interacting with others. We are so excited to be together to encourage and uplift one another and we appreciate your patience and understanding as we ask you to take steps to respect and care for one another.
Exhibitors: Please download this Exhibitor Letter. for details on the event, how to register, fees, etc.
Note: Our sectional is an event where all our participants come together to learn, grow, and develop ourselves and our businesses.
We are inviting you and your company to come participate as an Exhibitor to promote your business and potentially gain clients.
NextGen

NextGen coordination will take place at a section level, with assistance from the CCCA National Offices. Find out how you can get involved in NextGen, either as a mentor, or a mentee.
NextGen Coordinators: Access your NextGen Coordinators Toolbox. Please contact CCCA with any information or questions you have at: info@ccca.org.
Connection
YOU'VE GOT QUESTIONS. YOU'VE GOT ANSWERS.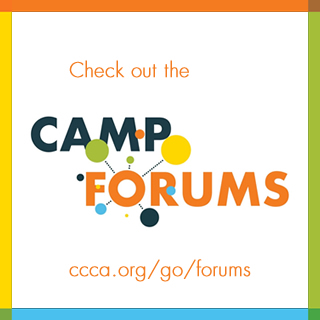 One of the greatest benefits of an association is the ability to ask colleagues what's been proven to work in their organization. For CCCA members, having access to insider information and best practices saves time and money. Check out CCCA's Camp Forums to find topics of interest to help you excel in your role at camp.
Section Manual
Download the latest Section Manual.
All Sections
View all sections.