Welcome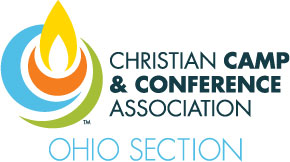 Welcome to CCCA's Ohio Section website.
The Ohio Section is made up of CCCA member camps from the great state of Ohio. On this site, you'll find:
The Section Members tab provides a list of all CCCA member camps in the Ohio Section. Find out where member camps are located, then drill down to additional information about these great camps.
On the Section Leadership tab, you'll find information regarding the leadership of both the Great Lakes Region (of which we are a part) and local section leadership.
Visit the Section News and Events tab for details about upcoming events in our section, our region as well as training events and the annual conference hosted by CCCA.
The Sectional Conference tab provides details about our annual sectional where local Christian camps come together for two to three days of worship, fellowship, networking, and fun. If you are not a part of CCCA, no problem. You can still attend. Check out the Sectional Conference tab for more information.
Finally, the Section Connection tab provides members with various resources, including links to various ways to communicate within — and outside of — our section.
On behalf of CCCA and the Ohio Section, thanks for visiting, and we hope to see you at one of our member camps and conferences soon!
Members
Leadership
Region Representative

Rick Miller
Great Lakes Region
(2022-2025)

Section President

Dan Bajc 2020-2024
Camp Aldersgate
3276 Dyewood Rd SW
Carrollton, OH 44615

(330) 627-4369

President Elect






Secretary

Kelcey Bajc 2014-2022
Camp Aldersgate
3276 Dyewood Rd SW
Carrollton, OH 44615

(330) 627-4369

Treasurer

Dan Bajc 2012-2022
Camp Aldersgate
3276 Dyewood Rd SW
Carrollton, OH 44615

(330) 627-4369

NextGen Coordinator

Josh Witry
Skyview Ranch
7241 Township Rd. 319
Millersburg, OH 44654-8708

(330) 674-7511

Communications Coordinator

Shyanne Zitkovic
Wanake Camp & Retreat Ctr.
9463 Manchester Ave SW
Beach City, OH 44608

(330) 756-2333

Government Relations

Sue Nigh
Heartland Conference & Retreat Ctr
3201 County 225
Marengo, OH 43334

(740) 747-0220

Past President

Julie Lautt 2018-2020
Wanake Camp & Retreat Ctr.
9463 Manchester Ave SW
Beach City, OH 44608

(330) 756-2333

MEMBER AT LARGE

Dave Sellers
Camp Patmos

(419) 746-2214

Member at Large

Lucy Richards
Camp Buckeye

(330) 756-2380






MEMBER AT LARGE

Scott Bruns
Scioto Hills Christian Camp & Retreat Center

(740) 778-3279

MEMBER AT LARGE

Judie Jenkins
Camp Chautauqua

(937) 746-3811






VENDOR COORDINATOR

HOST SITE COORDINATOR

Kathy Trainer
Beaulah Beach

(440) 967-4861 Ext. 2280
News and Events
Great Lakes Region & National News

A week at camp is full of amazing memories, exciting opportunities, new friendships and encounters with God. Help you...
Read more...
Posted: 07/08/2022

A week at camp is full of time with friends, games, good food, and unforgettable memories, making it your child's...
Read more...
Posted: 06/08/2022

The Child Mind Institute reported that the average American child spends over seven hours a day...
Read more...
Posted: 05/06/2022
Events
December 2022

S
M
T
W
T
F
S
1
2
3
4
5
6
7
8
9
10
11
12
13
14
15
16
17
18
19
20
21
22
23
24
25
26
27
28
29
30
31

List of Events for
12/1/2022 to 12/1/2023
Sectional
COVID-19 Notification
As they become available, dates and location for the 2023 Sectional Event will be posted below. The section cabinet and CCCA leadership will regularly review plans in light of COVID-19. This page will be updated as plans develop closer to the event. Please check back or reach out to the section president with any questions.
OHIO/INDIANA SUPER SECTIONAL
March 13-15, 2023
Country Lake Christian Retreat
Underwood, IN
Your Section Page || All Sectionals
NextGen

NextGen coordination will take place at a section level, with assistance from the CCCA National Offices. Find out how you can get involved in NextGen, either as a mentor, or a mentee.
NextGen Coordinators: Access your NextGen Coordinators Toolbox. Please contact CCCA with any information or questions you have at: info@ccca.org.
Connection
YOU'VE GOT QUESTIONS. YOU'VE GOT ANSWERS.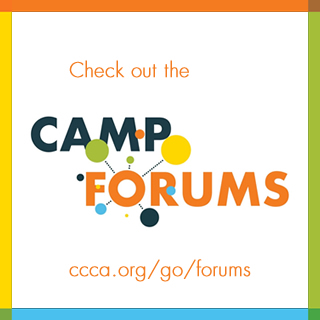 One of the greatest benefits of an association is the ability to ask colleagues what's been proven to work in their organization. For CCCA members, having access to insider information and best practices saves time and money. Check out CCCA's Camp Forums to find topics of interest to help you excel in your role at camp.
Section Manual
Download the latest Section Manual.
All Sections
View all sections.