Welcome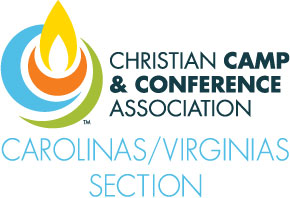 Welcome to CCCA's Carolinas/Virginias Section website. The Carolinas/Virginias Section is made up of CCCA member camps from the great states of North Carolina, South Carolina, Virginia and West Virginia. On this site, you'll find:
The Section Members tab provides a list of all CCCA member camps in the Carolinas/Virginias Section. Find out where member camps are located, then drill down to additional information about these great camps.
On the Section Leadership tab, you'll find information regarding the leadership of both the Southeast Region (of which we are a part) and local section leadership.
Visit the Section News and Events tab for details about upcoming events in our section, our region as well as training events and the annual conference hosted by CCCA.
The Sectional Conference tab provides details about our annual sectional where local Christian camps come together for two to three days of worship, fellowship, networking and fun. If you are not a part of CCCA, no problem. You can still attend. Check out the Sectional Conference tab for more information.
Finally, the Section Connection tab provides members with various resources, including links to various ways to communicate within — and outside of — our section.
On behalf of CCCA and the Carolinas/Virginias Section, thanks for visiting, and we hope to see you at one of our member camps and conferences soon!
Members
Leadership
Region Representative

Linda Harris
Southeast Region
(2016-2019)

Section President

Calvin Lindsey—2019-2021
Caraway Conference Ctr. & Camp
PO Box 36
Asheboro, NC 27204

(336) 629-2374

President-elect

Steve Collins
South Mountain Christian Camp
P.O. Box 9
Bostic, NC 28018

(828) 245-3322




Secretary

Abby Friend—2014-2019
Look Up Lodge
100 Look Up Lodge Rd.
Travelers Rest, SC 29690

(864) 836-6392

Treasurer

Paul Atkinson—2015-2019
Camp Longridge
PO Box 220
Ridgeway, SC 29130

(866) 966-9805

NextGen Coordinator

Lana Jernigan
Camp Dixie
373 W. Bladen Union Church Road
Fayetteville, NC 28306

(910) 865-5180

Communications

Open

Government Relations

Covered by current president

Past-President

Open



Vendor Coordinator

Matt Hunt
Camp Piankatank
PO Box 435
Hartfield, VA 23071

(804) 776-9552

Marketing Coordinator

Member At Large (SC)

David Blackwell
Look Up Lodge
100 Look Up Lodge Road
Travelers Rest, SC 29690

(864) 836-6392

Member At Large (WV)

Ruth Knicely
Appalachian Bible College/Alpine Ministries
161 College Drive
Mount Hope, WV 25880

(304) 877-6428

Member At Large (VA)

Steve Gourley
Camp Piankatank
PO Box 435
Hartfield, VA 23071

(804) 776-9552

Member At Large (NC East)

Kevin Adams
Camp Willow Run/Camp Willow Springs
190 Mangum Lane
Littleton, NC 27850

(252) 586-4665

Member At Large (NC West)

Jen Collins
South Mountain Christian Camp
P.O. Box 9
Bostic, NC 28018

(828) 245-3322
News and Events
Southeast Region & National News
ACCT Level 1 Challenge Course Training and Certification
Posted: 03/20/2015

In an age where people are spending 90% of their time indoors, it's no secret ...
Read more...
Posted: 10/07/2019

Young people who report spending the most time on smartphones—five to seven hours a day—are twice as likely to ...
Read more...
Posted: 09/17/2019

Cities across the U.S. have made efforts to increase opportunities for students to have meaningful outdoor experiences. Through the mayor's offices, parks and recreation, public health and youth services departments, community leaders have...
Read more...
Posted: 08/09/2019
Events
November 2019

S
M
T
W
T
F
S
1
2
3
4
5
6
7
8
9
10
11
12
13
14
15
16
17
18
19
20
21
22
23
24
25
26
27
28
29
30

List of Events for
11/1/2019 to 11/1/2020
Sectional
Carolinas-Virginias / Florida / Georgia SUPER Sectional
Caraway Conference Center & Camp
Sophia, NC
March 2 - 4, 2020
NextGen

For 2016, NextGen coordination will take place at a section level, with assistance from the CCCA National Offices. Find out how you can get involved in NextGen, either as a mentor, or a mentee.
NextGen Coordinators: Access your NextGen Coordinators Toolbox. Please contact CCCA with any information or questions you have at: info@ccca.org.
Connection
Sound the ALERT

Have a question for other camps in your section or an emergency in which you need support? Subscribing to CCCA Email ALERTs (Advanced Leadership Email Relay Tool) offers you connection to other CCCA members in your section. This tool may be used by executive directors and section leaders, and provides the option to send messages to all other executives and/or subscribers across the section, state or country.
Not signed up to receive ALERTs? Log in to My CCCA and activate your ALERTs on your personal profile page.
Section Manual
Download the latest Section Manual.
2019 Carolinas/Virginias Open House
Open House at Camp Piankatank in hartfield, VA
Monday, September 9, 2019.

You are invited to the annual Carolinas/Virginias Open House on Monday, September 9th! Our host this year is Camp Piankatank in Hartfield, VA.

The Open House and tour will start at 10:00 am, followed by lunch and some recreation activities that are unique to Camp Piankatank. Some of the options available will be the ropes course, canoeing out to Berkley Island on the Piankatank River, and even perhaps some fun on a catamaran!
Camp Piankatank is offering bunk bed lodging for those who would like to come in on Sunday evening or stay Monday evening. If you would like to attend, please email Steve Gourley to RSVP for the Open House and/or for lodging. You can call them at 804-776-9552 or email office@camppiankatank.org

Open House has been not only a fun way to see other camp properties, but a great time to connect with other camp professionals after a busy summer. We hope to see you there!

If you need to spend the night on Sunday night, you are welcome to do that! You will need to provide your own linens. Breakfast will not be provided.
All Sections
View all sections.