Welcome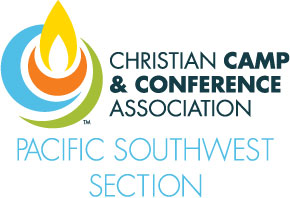 Welcome to CCCA's Pacific Southwest Section website. The Pacific Southwest Section is made up of CCCA member camps from the great state of Pacific Southwest. On this site, you'll find:
The Section Members tab provides a list of all CCCA member camps in the

Pacific Southwest

Section. Find out where member camps are located, then drill down to additional information about these great camps.
On the Section Leadership tab, you'll find information regarding the leadership of both the Southwest Region (of which we are a part) and local section leadership.
Visit the Section News and Events tab for details about upcoming events in our section, our region as well as training events and the annual conference hosted by CCCA.
The Sectional Conference tab provides details about our annual sectional where local Christian camps come together for two to three days of worship, fellowship, networking and fun. If you are not a part of CCCA, no problem. You can still attend. Check out the Sectional Conference tab for more information.
Finally, the Section Connection tab provides members with various resources, including links to various ways to communicate within — and outside of — our section.
On behalf of CCCA and the Pacific Southwest Section, thanks for visiting, and we hope to see you at one of our member camps and conferences soon!
Members
Leadership
Region Representative

Ed Covert
Southwest Region
(2019-2022)

Section President

DJ Crider - 2018-2020
Mile High Pines
42739 Hwy 38
Angelus Oaks, CA 92305

(909) 794-2824

President Elect

Marty Brown - 2018-2020
Camp Mt. Crags & Gilmore
26801 Dorothy Dr.
Calabasas, CA 91302-1901

(818) 222-6327

Secretary/Treasurer

Vicky Stevens - 2007-2020
Angeles Crest Christian Camp
2501 E. Chapman Ave, Suite 190
Fullerton, CA 92831

(714) 870-9190

VENDOR COORDINATOR

Lori Morrison - 2018-2020

(619) 797-7903






NextGen Coordinator

OPEN






Communication Coordinator

Government Relations Coordinator

Gabe Valencia
Mile High Pines Camp
42739 Hwy 38
Angelus Oaks, CA 92305

(909) 794-2824

Past President

Dave Crouse - 2016-2018
Angeles Crest Christian Camp
HC1 Box 22
La Canada, CA 91011

(714) 870-9190

News and Events
Southwest Region & National News

CCCA members River Valley Ranch (Manchester, Maryland) and Word of Life Island (Schroon Lake, New York) teamed up with CCCA to...
Read more...
Posted: 05/22/2019

When an afternoon lull hits, one of the best things you can do is to...
Read more...
Posted: 05/22/2019

Participants in a recent study were asked to interact with nature for 10 minutes at least...
Read more...
Posted: 04/14/2019
Events
May 2019

S
M
T
W
T
F
S
1
2
3
4
5
6
7
8
9
10
11
12
13
14
15
16
17
18
19
20
21
22
23
24
25
26
27
28
29
30
31

List of Events for
5/1/2019 to 5/1/2020
Sectional
2019 Pacific Southwest Sectional
January 14—16, 2019
For more information and reservations, please contact Vicki Stevens at (714) 870-9190.
NextGen

For 2016, NextGen coordination will take place at a section level, with assistance from the CCCA National Offices. Find out how you can get involved in NextGen, either as a mentor, or a mentee.
NextGen Coordinators: Access your NextGen Coordinators Toolbox. Please contact CCCA with any information or questions you have at: info@ccca.org.
Connection
Sound the ALERT

Have a question for other camps in your section or an emergency in which you need support? Subscribing to CCCA Email ALERTs (Advanced Leadership Email Relay Tool) offers you connection to other CCCA members in your section. This tool may be used by executive directors and section leaders, and provides the option to send messages to all other executives and/or subscribers across the section, state or country.
Not signed up to receive ALERTs? Log in to My CCCA and activate your ALERTs on your personal profile page.
Section Manual
Download the latest Section Manual.
All Sections
View all sections.