Michigan Program/Guest Services Advance
11/11/2019 - 11/12/2019
Location:
The Springs Ministries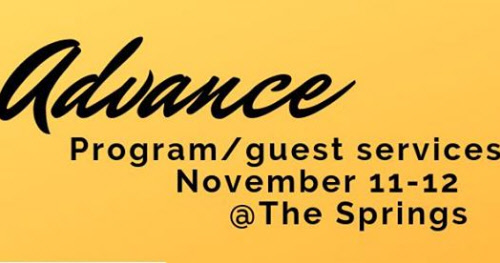 Program & Guest Springs Advance Location - The Springs
Monday November 11-Tuesday November 12
Check-in Opens at 3:15 PM Departure by 4:00 PM
CCCA Member Discount Pricing: $53/person Standard Pricing: $66/person Includes Lodging, 3 Meals, and all Advance programming.
Register here https://forms.gle/Y8kcEirF5YiiqiQf6
The purpose of the advance is to create relationship-building opportunities with camping professionals in similar positions. In addition, it is a chance to discuss topics of relevance to gather our collective wisdom. Schedule & topics are being discussed with more details forthcoming! Have ideas? Send them to anna@blbc.com.
Basic Schedule: *Subject to change*
Monday
3:15
Registration
4:00
Tour of The Springs
5:30
Dinner
7:00
Session 1
8:30


Activity
9:30
Free Time
Tuesday
8:00
Breakfast
8:45
Session 2
10:00
Round Table 1
11:15
Round Table 2
12:30
Lunch
1:30
Round Tables
2:45
Closing Session 3