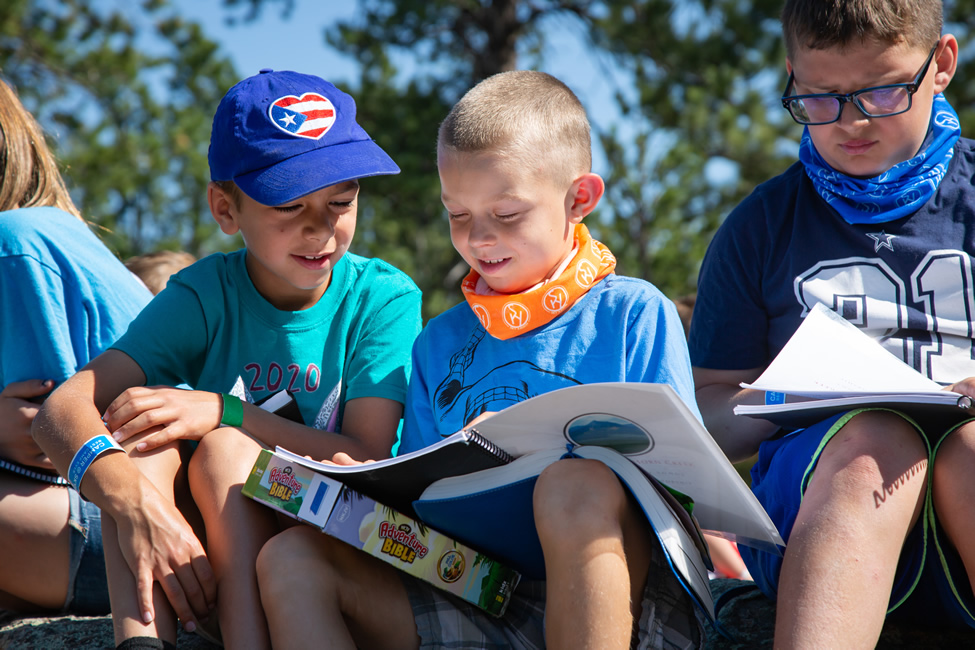 Photo Courtesy of Sky Ranch
Bringing Camp Home
A week at camp is full of time with friends, games, good food, and unforgettable memories, making it your child's favorite week of the summer. If only it was longer than one week! While we haven't yet convinced your local summer camp to extend programming to longer than one week, we have come up with some ways for your family to bring the fun of camp home.
Try out these fun activities to make memories, enjoy God's creation of nature and bond as a family!
Scavenger Hunt
Explore your town or neighborhood searching for specific items. If you want to add some competition, feel free to split into teams and come together to share pictures of what you found. Items to search for could include: sunflowers, a bridge, river, hammock, pool, umbrella, flowers, sprinkler, garden, bunnies and butterflies.

Water Games
Bring home the fun of camp and cool off with these water games! Consider inviting some friends or neighbors to enjoy the excitement as well.



Kiddie pool kickball
Set up 4 tarps and 4 kiddie pools in a baseball diamond shape. Grab a kickball and take turns kicking and then running around the bases stopping at every kiddie pool.


Water Balloon Toss challenge
Fill up some water balloons and have children partner up. First, have them stand close together and toss a water balloon back and forth. Have them step back each time they successfully toss and catch the balloon, then see how far apart they can stand before dropping the balloon.


Sprinkler Twister
Bring your game of twister outside and add an extra challenge by setting your sprinkler to spray over the game board.



Serve Together
One of the best parts of camp is that children get the opportunity to live out their faith with others. Instead of simply telling them "you should pray, read your bible, and spend time in community", campers are thrown into an environment at camp where these things are incorporated into every day's schedule. Take this wonderful aspect of camp home by living out the Christian discipline of serving. Your family could play with animals at the shelter, volunteer at a soup kitchen, write thank you letters to first responders, or donate clothes to charity.


Campfire
Isn't it fantastic to sit at a campfire after a long day at camp, worshipping God and enjoying a delicious s'more?

Don't forget to bring home this aspect to your at-home camp! The classic s'more is tough to beat, but if you want to shake things up, try making banana boats! Slice a banana the long way, and fill it with toppings such as peanut butter, nutella, chocolate chips, marshmallows, strawberries, nuts, and honey. Then, wrap your banana boat in aluminum foil and use tongs to place it near the fire to melt the toppings.


As you're enjoying the beauty of the campfire and a tasty banana boat, initiate spiritual conversations with these conversation starters:



What is your favorite characteristic of God?
What does it mean to have a relationship with God?
What makes someone a Christian?
If you could sit face to face with God and ask Him one question, what would it be?
How do you believe that God views you?



Bible studies
During the day, take some time to get into God's word together! Read a Psalm or a story of Jesus' life to bring peace and encouragement to your family. Try out devotions such as "Teens' FAQs About the Bible", "Truth Statements for Families" and "Live Love Does" from the YouVersion Bible App as well!


Pray
Ask your family how you can be praying for one another and then spend some time together in prayer. Water games, scavenger hunts, and a campfire are all tons of fun. However, the only thing we need to experience the presence of God that we felt so strongly at camp is to ask Him for it!