Michigan Section Maintenance Advance
10/28/2019 - 10/29/2019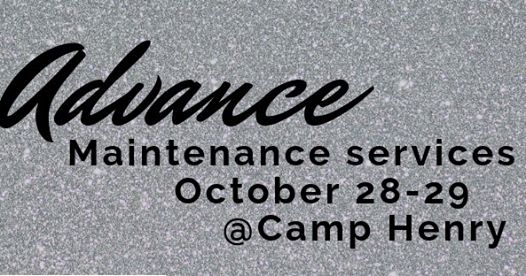 Get away to another camp and explore all things maintenance with others who serve as you do! Hosted by Camp Henry in Newaygo. More information to come on the schedule and topics to be covered. Monday night we will be having contests to test participants skills in different activities and fun events! The $55 registration fee includes Monday dinner, Tuesday breakfast, and Tuesday lunch along with accommodations. Register with EventBrite here: https://www.eventbrite.com/e/ccca-mi-maintenance-and-facilities-advance-registration-72684307721 For questions about the advance or accommodations at Camp Henry, please contact info@camphenry.org or call 616-459-2267.
Disc Baskets - Monday, October 28th 3:30 - 5:30pm We will spend this session working with Jim from Eagles Wings, building free standing disc golf baskets. Jim and Camp Henry will supply the materials. Yet, if you would like to take one home and back to your camp - please bring $100 for the materials cost - and you can go home with a great new program resource. Jim will also have discs available for purchase for $5 each. All proceeds go to Eagles Wings initiative.
DNR - Tuesday, October 29th 9:00 - 10:30am We will spend this session with Mike Smalligan - Forest Service Coordinator with DNR as he walks us through "Safety, exploration and economics of camp forests". Mike will also guide us a walk in the Camp Henry woods.
MIOSHA - Tuesday, October 29th 10:45 - Noon We will spend this session with Chris Johnson - Occupational Safety Consultant with MIOSHA as he takes us through hazard recognition training geared towards camp maintenance staff.
DeWalt Tools - Tuesday, October 29th 1:00 - 2:30pm Brad Dreyer - Enterprise Solutions Specialist for DeWalt will be presenting about all things DeWalt tools.