2014 CCCA NATIONAL CONFERENCE - LIFT
This event is now closed. 12/1/2014 - 12/4/2014
Info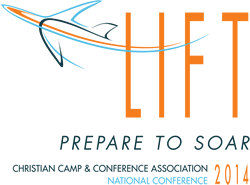 Registration
Attendees: Click here to download a PDF registration form
Attendees: Click here to download a PDF of the current conference brochure
You can register for the CCCA national conference online as a CCCA member or non-member by clicking the appropriate link at the bottom of this page. You may also register by phone at (888) 922-2287 or (719) 260-9400.
Register Between

Member Price

Non-Member Price

---

August 1 to October 31, 2014
$519
$749

---

November 1 through 2014 Conference
(no multiple person discounts)
$539
$799
---
CCCA provides a $10 discount for the 2nd, 3rd and 4th person registered from your organization; additional registrants pay the 4th person rate. There are no multiple person discounts Nov. 1 through conference.
Registration fees are always transferable to a previously unregistered guest from a registered camp/conference center/organization. Registrations cancelled on or before July 31 will be assessed a $50 cancellation fee. If cancelled after July 31, and notice is received on or before Oct. 31, they will be assessed a $100 cancellation fee. Registrations cancelled after Oct. 31 will be assessed the $100 cancellation fee and may be subject to additional penalties. All refund requests must be in writing and received by CCCA no later than Dec. 21, 2014.
Exhibitors: Please contact Bob Baylor for more information at (719) 260-9400, ext. 121; bbaylor@ccca.org.
To make hotel reservations, please visit the LIFT website's Location & Lodging page.
Registration and attendance at, or participation in, CCCA meetings and other activities constitutes an agreement by the registrant to CCCA's use and distribution (both now and in the future) of the registrant or attendee's image or voice in photographs, video, electronic reproductions and audio recordings of such events and activities.