Orange font in dropdown menu denotes members only items. Green font denotes items also available to the public.
Any member discounts will be applied at checkout to members who are logged in.

Product Information
Flint & Steel Classifieds: 3 (Three) editions
CCCA's Flint & Steel eNewsletter is sent out twice-monthly to thousands of camping professionals. Need to get the word out about a job listing or perhaps something you need to sell or a new opportunity? Flint & Steel Classifieds can help you get it done. Get one listing in three editions of Flint & Steel for $239 (members) or $349 (non-members). Click the button above to visit
My Recruiting Center
, then click on "Purchase Flint & Steel Classifieds" and get your listing started now. Additional discounts are available for members who also have a Job Listings subscription.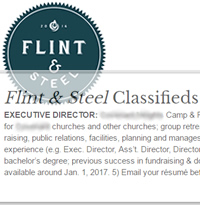 Christian Camp and Conference Association offers helpful resources designed to maximize the ministry of Christian camps everywhere. Members receive a discounted price (discount will be applied at checkout), and our Member Exclusives department featuring resources available only to CCCA members.